Winners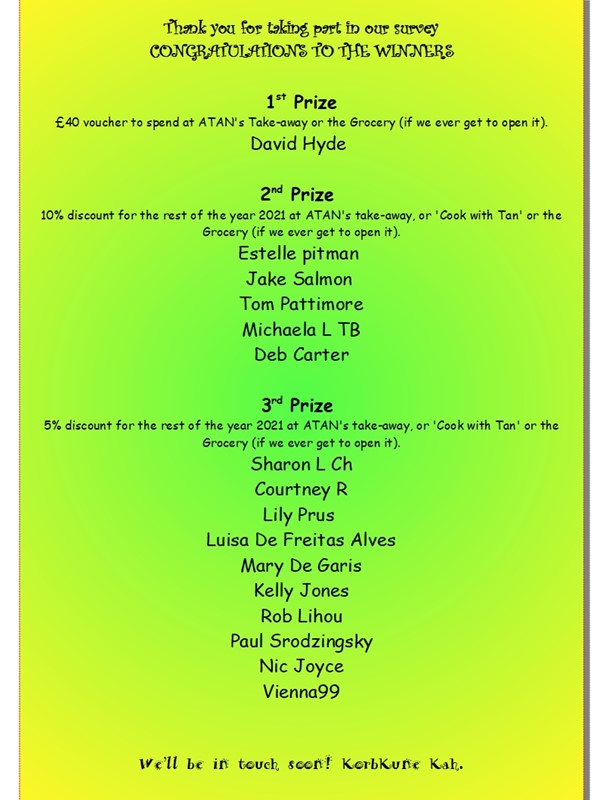 Thank you also for the comments and feedback. It is very helpful and much appreciated!
We will continue to improve our quality & service, and keep it at the highest standard as possible.
All prizes will be ready for collection at ATAN's HQ (Bridge) from Thursday 1st March 2021. Please quote your name and contact details.
Feedback
Amazing and very yummy.
I'm not interested personally in cooking Asian food as I could never get it as great as your takeaways! I would be interested in meal deals. I love that you cater for my daughter who has severe allergies she eats lunch from you regularly and it gives us peace of mind that she is safe eating from you. You guys rock!
Would cook Asian food more often if I knew what I was doing! Generally stick to cooking Thai green curry and the odd mild Indian curry
Love your food especially healthy Pad Thai
I used to live where Atan is
Love Atan. My boyfriend wouldn't even eat anything Mildly flavoursome or spicey until he came across you as wedding catering. Now he is completely open to trying new foods.
Keep being amazing
Love your simple tasty cooking and ingredients
Love your food it's absolutely amazing - I usually get it once a week on Friday or Saturday evening 🤗
Fantastic food
Sounds great
Would be so lovely to have cook at home recipe packs with instructions similar to Hello Fresh. Love your food. Moo Grob is the best I've ever had.
Keep up the good work guys!
Looking forward to being able to buy proper authentic ingredients.
Good luck with venture
Loved having fresh ingredients at your cookery night, hard to track down after in guernsey
Thank you 😊
Great services, great prices, great quality
Keep up the great work! :-)
Look forward to this
We love your food but would love to be able to buy Asian ingredients locally to us.
Amazing food. Highly recommend.
Keep up the great work!!
Absolutely love your chicken noodle soup.
Would be amazing to be able to buy different kind of foods.
To post more on facebook/social media
Your food is second to none and very healthy, I have really missed being able to sit down and enjoy an Atan weekend lunch.
Wasn't aware there was a grocery section so this is good to know!
LOVE LOVE LOVE ATAN
Can't wait for you to be open again!
Looking forward to the shop
Would love to see groceries included! I love cooking Asian cuisine and it's some times a bit of a struggle to find certain ingredients. We love Atan so much and regularly visit for lunch especially as we work on the bridge.
A great idea, especially if advice on recipes / cooking tips
This would be fantastic, I spent many years in Thailand and love the food, it would be amazing to pop in to get everything and more. Good work guys. Xx
"This was very straight forward! I'm glad to help. :)"
Discount for teachers is great!
An Asian supermarket is an amazing idea!! The options available in Guernsey are always limited so it would be incredible to be able to buy more Asian foods and cooking. How exciting!!
Love Atan Ahan food and eaten it for years when the budget allows :-)
Great food
Love the food
"We usually have a takeaway once a week and Atan is first choice when work commitments allow. Whilst I enjoy a Chinese etc nothing tastes as fresh as Atan.
The staff are fantastic and very welcoming. I am now greeted by name which is either a sign I attend to much or attentive service.
5⭐️"
What a great idea and definitely something that is missing on the island 😀
Looking forward to a grocery store opening.
Love Thai food. It is my favourite
Suggestions for improvement
Nothing
None - I miss your food!!
Gibbo size portions you goon.
None. We love your food
I feel you have it he takeaway to perfection would like to be able to order through food.gg
We love, love, love Kow Moo Grob but are not huge fans of very spicy food so would like recommendations. Have loved the tasty wings, ribs and spring rolls too but not sure what else to order that isn't too hot. Thanks
None
None really we love your food and cookery courses and catering
Cafe/sit in
None I love atan I go with my dad and sisters a lot!!
Hope the States and Covid allow you to open again soon, I'm assuming you are looking for different premises? How about the old NatWest Bank site at Cobo?
Open more evenings during the week
Maybe sell moo grob sauce in jars like you do for the gingy tingy sauce 😊
None
Recipes
Brilliant idea!
Open 1 night a week during the week
Your food is amazing. A shop with fresh fruit and veg would be great.
None. 10/10
Can't improve perfection. Maybe add Satay sticks 😋
More variety, cheaper options
Stock Jarritos soft drinks
Open for dinner (5pm - 7pm)
too much sauce over meat/fish content .sometimes very little meat at all.
I think you've made improvements -packaging for example and opening your shop so none to note.
To open for more hours
JAPANESE PLEASE!
Open more hours
Carry on doing what you do best. You know your foods, you are amazing with flavours and your cooking is simply wonderful!
Could you introduce some cold meal options for summer e.g. Asian salads
Loyalty stamp cards maybe.
None, good quality authentic food
Business opening longer
More deliveries
Only to bottle up the Moo Grob sauce as its delicious and I would love to be able to make it at home
Easy pre order
Open in the evenings
This sounds like an amazing idea! I would love an Asian store in Guernsey!
Jyst keep making the gorgeous food u make
Bigger store / sit down restaurant